As a young child and soon-to-be artist, Tea Duong immigrated from Vietnam to the United States. He has been a studio potter since 1986. As an artist, he has studied and worked abroad in New Zealand, Australia and Europe. Currently, Mr. Duong maintains an expansive studio in the Coast Range of Western Oregon.
Tea has taught pottery classes for over twenty years and, due to frequent requests, recently began offering ceramic workshops at various learning institutions. He has a masters degree from Truman State University (formerly Northeast Missouri State University) with an emphasis in art. Tea's students will tell you he has an amazing talent for conveying knowledge of his own personal and unique wheel throwing techniques.
Tea employs a white stoneware clay body. The end product is glass-like and non-porous. He mixes his own glaze recipes from raw mineral ingredients. He alternates his firings between his two favorite on-site kilns, a high-fire gas kiln and a wood-fired kiln.
Tea lives and breathes the entirety of forming clay, from the beginnings of a lump of raw earth, through the always surprising firing process, to a finished, pedestal-worthy, artistic form. He loves to push himself to uncover new forms, discover creative techniques (think textures and embellishments) and to take clay as far as it will go-- today and tomorrow.
Established artist, Tea Duong, is available for pottery hands-on and/or demonstration workshops.
One day workshops typically are demonstration-centered. In a lively and entertaining repartee, Mr Duong fills his workshop with a constant display of expert technique interspersed with amusing anecdotes of his pottery experience. Students, new to clay and experienced, come away with a fresh understanding of what working with clay is all about from a working, studio artist.
Two day workshops include similar technique-rich topics, energy and wit as one-day demos, however the additional time offers participants a hands-on experience. Because of Tea's unique ability to recognize and correct a student's individual throwing obstacles, two day workshops are especially valuable for emerging potters. Additionally, Tea's vast experience and generous spirit (he'll gladly answer all questions put to him) give advanced students a creative approach to problem solving that builds on their ongoing art education.
PROCESS — CREATIVE DISCOVERIES
WORKSHOPS — HANDS-ON ENERGETIC LECTURES
When your workshop comes to a close, Tea discusses finished examples of his own pottery with the workshop participants. This informal, show-and-tell setting gives everyone an opportunity to ask questions and share experiences with one another.
Examples of Tea's pottery are indicative of a wide-range of forms, decorations, attachments and glazes. Scroll from side to side to enjoy this outstanding work.
When a clay artist wishes to compliment another, it is often said: He/she is "a potter's potter". This comment is frequently mentioned with regard to Tea. Those who work in clay appreciate his attention-to-detail. Tea incorporates a well formed, small foot that grounds each piece but doesn't let it appear that the pot "grows" out of surface where it sits. A fat, rounded shoulder graces the form. Lids, handles and other decorative attachments are fitted to the individual form, in both dimension and textural interest.
While photos illustrate the extreme beauty of each piece, it is in handling Tea's artwork that pleasure comes full circle. These are self-assured forms that invite use. The weight of each piece is just slightly lighter than expected. Glazes feel good in one's hands. Visually, there are little surprises that reveal themselves over time, even when the piece has become seemingly familiar.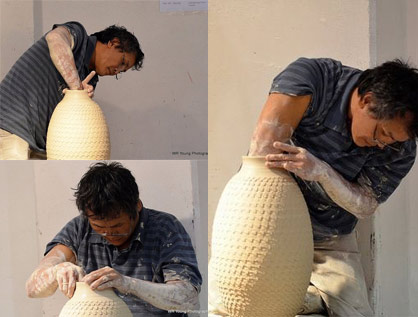 Request more information for Pottery Workshops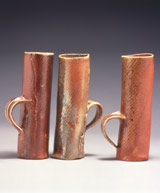 Tea is able to achieve vast surface differences by utilizing several firing techniques. Mr. Duong uses three different kilns to fire his work; gas-fired kiln, Anagama or cave kiln, wood-fired (Noborigama) kiln. With so many ways of working, it's difficult to classify his art. And, just when you think you've defined Tea's "style", his creativity will break loose and another, even more exciting form, glaze or technique will be added to his repertoire.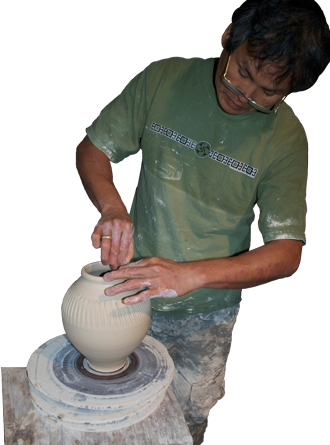 As Tea Duong's work often makes it difficult for him to take calls, it is more convenient for him to make most contact via email.
Please contact Tea using this form. You'll be provided with more details of what Tea offers, an opportunity to discuss individualizing the workshop for your program's needs as well as costs and availability.
E-mail:
Phone:
Social:
WORKSHOP INQUIRY


ARTIST
EDUCATOR
ARTIST
EDUCATOR